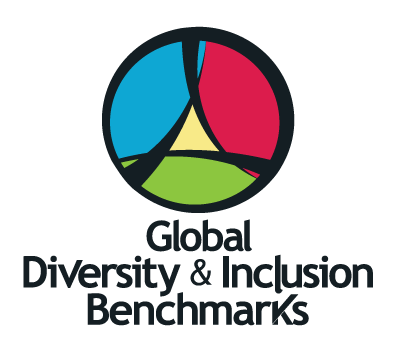 Download Global Benchmarks
The Diversity Collegium is proud to sponsor the Global Diversity & Inclusion Benchmarks: Standards for Organizations Around the World (GDIB) by 95 Expert Panelists, Julie O'Mara, and Alan Richter, Ph.D.
ABOUT THE GDIB
GDIB helps organizations determine strategy and measure progress in managing diversity and fostering inclusion. It is a free downloadable 80-page booklet that can be used by submitting the Permission Agreement.
If you have problems downloading the Permission Agreement form or have any questions, contact Julie O'Mara at GDIB@diversitycollegium.org or call + 702-541-8920 between 7:00am and 7:00pm UTC-8 or United States Pacific time zone.
Accessibility
Generally, the GDIB follows the guidelines provided by the W3C Web Accessibility Initiative (WAI), a worldwide initiative to make the Web more accessible for persons with disabilities, which is a critically important D&I goal. As this 2016 GDIB goes to press, and while we have designed this edition of GDIB with accessibility in mind, we still have some work to do. For that reason and for further accommodation we have also provided an Alternate Format version.
Viewing, Printing, and Binding the GDIB
Computers and printers vary widely. Much thought has gone into the GDIB content and design. Our goal is to help readers have a positive, learning experience resulting in engagement, retention of information, and excitement about diversity and inclusion. The colors, font, and style are all thoughtfully created to attain that goal. Thus for optimum viewing and printing, individual viewing and printer settings may need to be adjusted. If you experience technical difficulties, please seek assistance from your local technical expert. 
Tips for Viewing
 View full screen, single page at 100 percent. 
Adjust brightness controls for higher brightness. 
If you see two or four pages side by side on the screen, adjust your viewing settings. 
Tips for Printing
Please print in color. Colors in the GDIB have intentional meaning and enhance reader understanding.
Use 24lb. or 28lb. bright white or higher quality paper for brighter colors and sharper print.
Print duplex or double sided to protect the environment and reduce cost. You will need to check your printer settings to do this.
 GDIB is designed to work on both US Letter and A4 paper.
In most cases the printer should not reduce the print size. If so, you may need to reduce your printer settings and set to Print Actual Size.
The GDIB should print back to front so that when you pick it up from the paper tray it should be in reading order. If not, adjust your printer settings.
Tips for Binding
We find that a spiral binding works best. By using a clear plastic front and back cover, the vibrant colors are visible. Spiral binding allows the booklet to lie flat for easy reading and study.
The left side can also be stapled so that it reads like a book. However, it will not lie flat.
We strongly advise against using a clip in the upper left corner especially when it is printed double sided. Using a clip may seem like a good, logical, and inexpensive option but it makes the even-sided pages very difficult to read.
 
Versions
GDIB — 3.2 MB
For most users this is the best choice to download. The resolution is crisp and sharp in screen view and print. 
Download GDIB-V-03072016-3-2MB.pdf
GDIB — 6.5 MB
This is higher resolution than the 3.2 MB version, clearer and sharper in view and print. However, it requires more ink to print. Additionally this file may exceed some organization's send and receive document limitation.
Download GDIB-V-03072016-6-5MB.pdf
Alternate Format
This is a Microsoft® Word version of the GDIB content with no graphics. It is useable for persons with disabilities and for those desiring to customize portions of the GDIB. See the Permission Agreement for information on customizing.
To request this version, send an email to GDIB@diversitycollegiuim.org
If you have specific questions not covered above in the Permission Agreement or The GDIB Style Guide contact Julie O'Mara at GDIB@diversitycolleigum.org or call +702-541-8920 between 7:00am and 7:00pm UTC-8 or United States Pacific time zone.