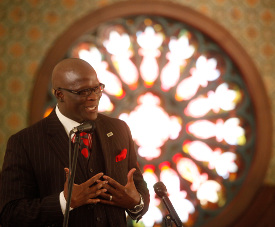 Eddie Moore, Jr., Ph.D.
Founder/Consultant, America & MOORE, LLC
Founder, the White Privilege Conference
Biography
Dr. Eddie Moore, Jr. has pursued and achieved success in the world of academia, business, diversity, leadership and community service. In 1996, he started America & MOORE, LLC to provide more comprehensive diversity, privilege and leadership trainings/workshops. Through America & Moore he shares interactive and motivating presentations to students from grade K through post secondary levels, to parents, community members and organizations, city and state government employees throughout the nation. Recently he has developed various workshops and presentations on topics aimed at future leaders. Those issues include, but aren't limited too, The Nigga(er)Word: Is There a Message in The Madness?, 21st Century Leadership and Diversity: Are We Ready?, Black Males, Athletics, Academics and The New Achievement Gap, The Challenges of Addiction: A Zero-Hero Story, White Privilege 101: Getting In On The Conversation, and Youth and High Self-Esteem: What Matters Is On The Inside.
Additionally, Dr. Moore is the Founder/Program Director for the White Privilege Conference (WPC). Under his leadership the conference has become one of the leading social justice conferences in the world. The design and success of the WPC is based on building relationships. This design is viewed by many as the model to be followed for organizations advocating for peace, equity, justice and change. Lastly, Dr. Moore serves as the Executive Director of The Privilege Institute in Denver, CO.
Eddie is an engaging, dynamic, challenging and approachable leader, consultant and public speaker. He has done workshop sessions for many different K-12 schools, community organizations, businesses and colleges/universities all across the nation/world. Eddie has presented at national and international conferences focusing on a variety of issues related to diversity, youth, community, education, cultural competency, leadership, white privilege and oppression. He is co-editor of Allyship: White Folks Living and Working for Racial and Social Justice, to be published in March 2015, and The White Woman's Guide To Teaching Black Boys, forthcoming.
Eddie received his Ph.D. from the University of Iowa in Education Leadership in May 2004.
Contact Information
Eddie Moore, Jr., PhD
Web site: www.eddiemoorje.com
Twitter: @eddieknowsmoore
Email: eddieknowsmoore@yahoo.com