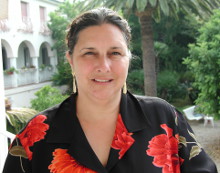 Jacquelyn (Jackie) V. Reza, Ed.D.
Director, Professional & Organizational Development, De Anza College
Biography
Jackie Reza was born and raised in San Francisco. She was educated at various universities including Ahmadu Bello University in Nigeria (1979), where she received a Bachelor's of Science degree in Zoology - emphasis in Ornithology. At San Francisco State University, where she completed a second Bachelor's degree in La Raza Studies (1979) and a Master's of Science in Rehabilitation Counseling (1981). During this time Jackie became a licensed MFT (Marriage, Family Therapist) in California and set up a small private practice. After 10 years working in the field of counseling and teaching in higher education Jackie went back to earn her Doctorate in International and Multicultural Education at the University of San Francisco (1995).
Currently, Jackie works full time at De Anza College where she counsels and teaches a variety of courses including Human Sexuality, Women's Studies and Intercultural Studies. She is also an adjunct faculty at the University of San Francisco, Department of International and Multicultural Education and consults.
During her tenure as a faculty member, Jackie has served as President of her College's Faculty Senate and on the State Executive Council of the California Community College Faculty Senate. In that capacity, she Chaired the Affirmative Action/Cultural Diversity Advisory Committee and served on the California Community Colleges State Chancellor's Diversity Advisory Committee.
Jackie has been an active member of the Latina Leadership Network of the California Community Colleges since its inception in 1987 and in 1993 served as the organization's President. Most recently Jackie was President of De Anza College's Multicultural Staff Association (2005). She has testified before the California State Legislature regarding the needs of minority and first time to college students and has helped draft state policy mandating the special qualifications counseling faculty need to acquire in order to effectively work successfully with diverse student populations.
Jackie's consulting practice has grown from working with students, staff and faculty in the K-12 system, to Higher Education, to national and international levels. One particular program, dear to her heart, has been her involvement in a multi-year project in Curriculum Transformation and Social Justice that has taken her to many Eastern European Block countries, where she has trained and continues to mentor national educational leaders, educators, community activists and parents Healing the Heart of Social Justice. For the last 5 years she has been working with faculty at City College of San Francisco as the lead consultant of their Multicultural Infusion Project (MIP) and is entering her third year working with the California College of Arts as the lead consultant for their Fostering Creative Citizenship Across Cultures (FCCAC) Faculty Project.
Publications include several articles on Latina Leadership in Higher Education, Latina identity and Self-Transformation through Critical Literacy, Reflections and Actions. She has written a book for the Open Society Instituted: Anti-biased Curriculum for the Heart, which has been translated into 22 languages of the Eastern Block European countries.
Most recently Jackie was nominated by a student for the 8th edition of the Who's Who among America's Teachers (2004). In 1994, Jackie was honored by the Northern California Chicana Scholarship Foundation for her leadership within the Latina/Chicana communities and in 1993 she received the Golden Torch Award from San Francisco State University's Alumni Association. She has also been the recipient of the Women Leaders in Education Award from the Santa Clara County Women in Education Association (1991), the National Woman of the Year Award (1991) and the National Outstanding Young Woman of America Award, (1987). Jackie is listed in California's Who's Who, the International Who's Who of Professional and Business Women and the 2,000 Notable American Women, Men & Women of Distinction and Women of Today reference books.
A couple of other facts that are important for you to know about Jackie is that she was an EOP special admit student at SFSU, is the mother of Antonio, loves to garden and read trash novels.
Contact Information
Jackie Reza
Email: jvreza@comcast.net