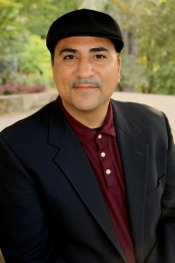 JuanCarlos Arauz, Ed.D.
Founding Executive Director of E3: Education, Excellence & Equity
Biography
Dr. JuanCarlos Arauz is one of the most sought after educational experts as he inspires and captivates his audiences. He has mastered the art of addressing the delicate topics of 21st century education, immigration, and Black/Brown male youth development. He translates these issues so that they are relevant to participants by providing a rare expertise through his lived experience as an immigrant of color and learned experience through earning a doctorate in International & Multicultural Education. Consequently, his creative and unique approach provides audiences with the insight of the challenges as well as innovative tools for students and teachers in the classroom. He has been featured in a documentary that focuses on contemporary civil rights activists and has traveled around the country as an inspirational 'Spoken Word' storyteller. His fresh and compelling vision brings collaboration between the private and public sectors, providing solutions to humanize the educational process for every student and educator. He believes we cannot have educational excellence without equity. (www.youtube.com/user/e3education)
Dr. Arauz received his BA in Education and MA in Social Science Education from the University of South Florida. He received his Ed.D. in International and Multicultural Education at the University of San Francisco. His dissertation research focused on the racial identity development of undocumented Latino youth. He currently is the Executive Director of E3: Education Excellence & Equity and an adjunct professor at Dominican University. In addition, he has served as a trustee for several independent schools and educational organizations.
JuanCarlos is a proud member of a family that includes his spouse, a woman of grace, and eight children (there's a story!). He and his partner have extended their family to include 21 wonderful foster youth. He is bilingual in Spanish and English, was born in Brazil to Nicaraguan parents and immigrated to the United States, lived in several countries, taught in the classroom and coached female and male high school state basketball championship teams, all of which have provided him with unique insight to issues that educators face today.
As a result of his work, some of JuanCarlos' accomplishments include:
Developed a model program for education in which 100% of Latin@ high school students who enrolled in the program graduated vs. the national graduation rate average of 58%. Also, 85% of those Latin@ students are enrolled in college, vs. the natl. avg. of 27%.
He began a student group named One Dream 2009 that highlights the plight of undocumented immigrant youth to have the right to an education. As a result, his group was invited to Washington D.C. for the Presidential Inauguration of President Barack Obama
He is the founding executive director of E3: Education, Excellence & Equity whose vision is to redefine educational excellence where every student, regardless of starting point, is engaged and expected to thrive in a culture of academic success. In an increasingly interdependent society, we seek a new definition of academic excellence; one that includes skills that values students' lived and learned experiences./li>
1000 Voices Project National Archive
Regional Dr. Martin Luther King Jr. Human Rights Award for One Dream 2009 project
2010 Jefferson Award Recipient
Echoing Green Semi Finalist
Contact Information
E3
P .O. Bo x 151562
San Rafael, CA 94915-1562
Web site: www.e3ed.org
Email: admin@e3ed.org