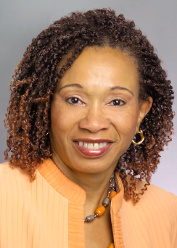 Mary-Frances Winters
President, The Winters Group, Inc.
Biography
Mary-Frances Winters is a master strategist with over 30 years experience in strategic planning, change management, diversity, organization development, training and facilitation, systems thinking and qualitative and quantitative research methods. She has extensive experience in working with senior leadership teams to drive organizational change. Described by clients as highly creative, collaborative, visionary and results oriented, she is a sought after keynote speaker and workshop leader. She is the author of three books, Only Wet Babies Like Change: Workplace Wisdom for Baby Boomers; Inclusion Starts with I and CEO's Who Get It: Diversity Leadership From the Heart and Soul and numerous articles and reports. Mary-Frances is founder and president of The Winters Group, a 30 year old diversity and inclusion consulting firm serving clients in the for profit and not for profit sectors including Fifth Third Bank, International Monetary Fund, Sodexo, Blue Cross Blue Shield Michigan, Sun Trust Bank and United Way Worldwide among many others.
Recipient of numerous awards and honors, Mary-Frances was named a diversity pioneer by Profiles in Diversity Journal in 2007. She was the first African American women to be named to the board of trustees of her alma mater, The University of Rochester in New York and holds an honorary doctorate from Roberts Wesleyan College. She was twice named by the Small Business Administration business person of the year and the March of Dimes awarded her the distinction of Mother of the Year.
Contact Information
Mary-Frances Winters
The Winters Group, Inc., Transformative Solutions for Equity and Inclusion
Web sites: www.wintersgroup.com | www.letstalkaboutwork.tv
Office Phone: 301.372.1550
Mobile Phone: 240.274.8208
Email: mfwinters@wintersgroup.com
Twitter: @maryfwinters and @letstalkwork
Facebook: www.facebook.com/wintersgroup
LinkedIn: www.linkedin.com/in/maryfwinters
Blog: www.theinclusionsolution.me