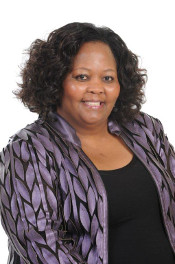 Nene Molefi
Managing Director at Mandate Molefi HR & Transformation Consultants
Biography
Nene Molefi is the President of Mandate Molefi Consultants, a company based in South Africa that specializes in Transformation Strategy, Diversity, Culture Change and Executive Coaching. Nene has provided strategic consulting services to Multinationals, Government Departments, Regulatory Bodies, Non Profit Organization and the Legal Fraternity.
Her versatility and experience in partnering with boards and executive committees has positioned her well to work with large scale culture change and transformation projects. Her impact regarding mindset change has been acknowledged across a range of industries including Mineral & Energy, Financial & Banking Sector, Construction, Engineering, Manufacturing, Organs of State, National & Provincial Government.
Over the past 18 years, Nene has gained a reputation both locally and internationally as a thought leader in Diversity & Inclusion, Values Driven Leadership & Transformation. She is a regular presenter at conferences and has conducted Diversity Management Workshops around the world, including Malaysia, Bangladesh, USA, Zimbabwe , Zambia, Botswana and Namibia.  She a published author on  numerous  publications and was part of a global panel of 75 experts who contributed to the Global Diversity & Inclusion Benchmark Tool.
Nene is working increasingly in the field of Values Alignment in the African Continent. In recognition of her extensive knowledge and work on Values as a solid foundation for Inclusion, She was invited to join the faculty of the Thabo Mbeki African Leadership Institute as an associate lecturer focusing on  value-based leadership and diversity. She is also an associate lecturer on Transformation Strategy and Global Diversity at one of South Africa's  top business school , The Gordon's Institute for Business Science ( GIBS) As a Lead Consultant in her Consulting Firm, Nene has managed large scale Culture Change projects that have a broader impact in South African society. Some of the projects include a Culture change and diversity dialogue sessions  with the Judges of the 9 provincial High Courts plus the  the Supreme & Constitution Courts.
Nene is a qualified  Coach with the Coaches Training Institute and uses multiple coaching models and tools including Enneagram, She is a skilled process work and deep democracy Consultant which are effective tools for social change. Nene has also gained experience in corporate boards by being a non-executive director of companies listed on the Johannesburg Stock Exchange. She also sits on the advisory board of the Auditor General of South Africa.
Her work on diversity and Inclusion extends to the community. As a Social Entrepreneur she is involved in several Non Profit organisations including being the Chairperson of Umthombo WeSiswe Children's Organisation – An initiative focusing on Cultural Diversity Intelligence for SA Pre-Teens and  instilling a sense of dignity and developing them to become future Ethical Leaders of South Africa. She is also a board member of the Community Aids Response (CARE) and is a coach and mentor to several young women who are in various stages of their career. 
Contact Information
Mandate Molefi Consultants
PO Box 92489, Norwood, Johannesburg, 2117, South Africa
Phone: +27 11 728 9585
Web site: www.mandatemolefi.co.za
Email: nene@mandatemolefi.co.za
Facebook: Nene Molefi
Twitter: @NeneMolefi
LinkedIn: Nene Molefi