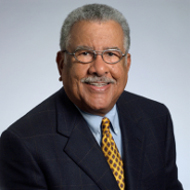 Price M. Cobbs, M.D
Emeritus
President & CEO Pacific Management Systems
Biography
Price M. Cobbs, M. D. is an internationally recognized psychiatrist and management consultant. His clients range from global corporations to inner city businesses and include government and community agencies. Pacific Management Systems, the company he founded, consults with organizations on leadership and executive development, diversity as a business imperative, effective communications and the psychology of networking.
Among Dr. Cobbs' writings, best known are Black Rage and The Jesus Bag, co-authored with William Grier. Both are considered classics in African American literature. His Cracking the Corporate Code: From Survival to Mastery, co-authored with Judith L.Turnock. His most recent book is My American Life: From Rage to Entitlement. He has lectured and published extensively on the psychodynamics of racism and has contributed chapters to the Urban League's annual State of Black America.
He has developed Ethnotherapy, a clinical model capable of changing attitudes and assumptions arising from racial, ethnic and value differences. His model is the foundation for the award winning video series, Valuing Diversity, which he co-produced.
Dr. Cobbs presented at the Second Mount Kuchumaa Symposium Series in Tecate, Mexico on The Alchemy of Change: Transformations in Society, Consciousness and Values. He was a featured guest on the PBS series Thinking Allowed. Among many keynote addresses have been the American Society of Training and Development (ASTD), Association of Black Psychiatrists in Antigua, W.I. and the Association for Humanistic Psychology.
At the historic first Annual Diversity Conference held in Johannesburg, South Africa, Dr. Cobbs was a keynote speaker. Prior to their election, he returned to South Africa for consultations with various businesses, corporate and government groups, lectures to university groups and interviews on national television, radio and local publications.
 
The Association for Humanistic Psychology accorded Dr. Cobbs their highest honor, The Pathfinder Award, for his exemplary contributions to the development of healthy self-identity and self-determination among African Americans and others who have been excluded from the idealized American image. Saybrook Graduate School and Research Center conferred its biennial Rollo May Award for Humanistic Service. He is a founding member of The Diversity Collegium. Dr. Cobbs conducted a diversity seminar at the United Nations Headquarters and has lectured at the Untied States Department of State on "Ethnocentrism, Valuing Differences and U.S. Foreign Policy".He received the Harvey Russell Award from the Chairman of PepsiCo, Inc. and r the Al Martins Heritage Award from the Executive Leadership Council.
Black Enterprise Magazine honored Dr. Cobbs as a leading physician in the United States for his contributions to the field of psychiatry.  He is listed in Who's Who in America, Who's Who in the World and Who's Who Among Black Americans. Newspaper, radio and television interviews include appearances on Tavis Smiley, Ed Gordon, Oprah Winfrey, Phil Donahue and Today shows and articles in the Los Angeles Times, USA Today, San Francisco Chronicle and San Francisco Examiner.
Dr. Cobbs received his B.A. from the University of California, Berkeley and his M.D. from Meharry Medical College. He was one of the founders of the African American Leadership Institute at the Anderson School of Business, the University of California at Los Angeles. He is a member of the National Medical Association, a Life Fellow of the American Psychiatric Association, the Executive Leadership Council and the Institute of Medicine of the National Academy of Sciences. He is a Charter Member of the Urban League, a Life Member of the NAACP, on the Advisory Board of The Black Scholar and on the Board of Directors of Shared Interest.
Contact Information
Price M. Cobbs, M.D.
President & CEO
Pacific Management Systems
3528 Sacramento Street
San Francisco, CA 94118
Phone: 415-922-1017