The Diversity Collegium is proud to sponsor
The Global Diversity and Inclusion Benchmarks
New Tenth Anniversary Edition
How does an organization know if its diversity and inclusion (D&I) efforts are high quality and really worthwhile?
What are the standards to judge by? The Diversity Collegium believes our sponsorship of the GDIB offers an important way for us to achieve our mission of advancing the field of Diversity and Inclusion and help answer these questions!
To that end, The Diversity Collegium is extraordinarily pleased to be the first and primary sponsor of the Global Diversity and Inclusion Benchmarks: Standards for Organizations Around the World, co-authored by Julie O'Mara, Collegium Emeritus member and Alan Richter, Ph.D., Collegium member along with 95 Expert Panelists.
"The GDIB is one of the first comprehensive tools to explain what creating inclusive organizations is all about," says Lynda White, president of The Diversity Collegium. This 80-page booklet can be used by any size and type of organization anywhere in the world. "And it is free of charge!" adds White.
"The Benchmarks provide a roadmap for organizations in all sectors, regardless of their approaches to D&I," says Julie O'Mara, one of the co-authors. She believes the tool will encourage organizations to strive to achieve world-class diversity and inclusion outcomes.
And what's the benefit? "High performing teams and strong organizational practices and systems that help meet organizational goals!" asserts Alan Richter, co-author.
The Diversity Collegium is particularly pleased to sponsor the Global Diversity and Inclusion Benchmarks because as organizations and societies around the world strive to create inclusive environments and approaches, a tool such as the GDIB provides important information, guidance, and support. For these reasons, click here to download The Global D&I Benchmarks.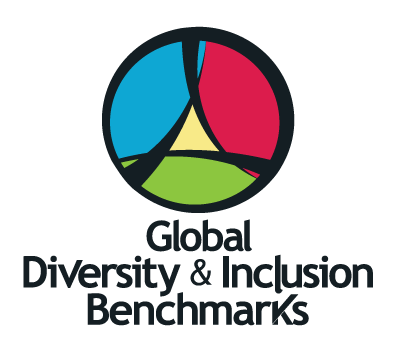 See also:
10th Anniversary Launch Events
ACPA Edition for Higher and Tertiary Education Institutions
Best Practices and Applications
Books, Articles, and Reports
Download GDIB
Expert Panelists and Authors
GDIB Alliances
Logos and Graphics
Media Tips and Tools
Newsletters
Permissions Information
Portuguese Translation Edition
User Tools
What Users Say About the GDIB