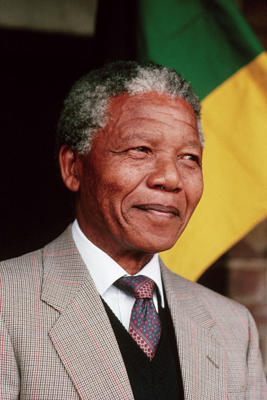 Tributes to Nelson Mandela
A Leader who Reached Out to the Underdogs: A Tribute to Mandela's Inclusive Leadership
By Nene Molefi
Nelson Mandela embodied the concept of inclusive leadership. He didn't just talk about it. He lived it, taking bold steps for South Africa with his unique personal style that so effectively combined humility and warmth with influence and impact.
I first met Nelson Mandela when I was invited for dinner at his house in Houghton about 10 years ago. It was a small and intimate dinner with only six people invited, but I was nervous in my anticipation of meeting the great man. That afternoon I anxiously focused my mind on sharpening the intellectual language I would need, the impressive words I could use in the complex discussions on politics and the global economy that I was sure would unfold.
Much to my surprise, the conversation and stories focused almost completely on Madiba's memories of the village and his appreciation for other people. He told of his visits to Qunu, walking to the village and sitting with the people there, men and women who would always see him as one of their own, simply as a man who went to jail and then came back.
He told of how they would often ask him to mediate their interpersonal conflicts. On one memorable day, a woman had accused another of stealing her chicken. He didn't say to them, 'No, I only deal with big things.' He sat with them, listened to both sides and took it seriously. On another day, there was a conflict over lobola and the cattle that were involved. And the stories continued. By the end of the extended dinner, I realised we had not touched on global politics at all.
After that evening, I had the honour of meeting with Mandela on several other occasions. However, it was that dinner in particular that left a huge impression on me. His stories of Qunu, and how he was present and available to the needs of the people of Qunu, capture the essence of true leadership. A true leader is someone who is a servant to the people and who makes you feel that you matter regardless of who you are or what position you hold. He gave the same amount of attention to those of us at that dinner as he would have given to any visiting dignitary.
To me, this represents how leaders should be in the midst of their people. My lasting memory will be how Mandela made me feel about myself in his presence. Never in a hurry, he had a way of making you comfortable with a joke or a story. Many of his security guards and body guards have attested to the fact that he knew them by name. He would stop, greet them and shake their hands, in contrast to most of us who walk past security personnel as if they are just part of the landscape. On a similar note, one of the staff members of the Nelson Mandela Foundation told of a memorable event that they attended together. Upon arriving at the hall where the event would take place, Mandela's first request was to be taken to the kitchen. In response to his puzzled staff, he explained that surely they were going to be served food at the event and he would therefore like to meet the people who would be making it.
And that was just the way he was. He was a leader who reached out to the underdogs, to the people that others didn't pay any attention too, to the children who felt free in his presence to say whatever was on their minds. He led by his actions and the inclusive way in which he treated all the people he came in contact with.
This is the type of leader that I aspire to be and that I encourage my colleagues and clients to be. Transformation is much more than saying or doing what is politically correct. It is about living that special combination of humility and warmth, combined with authority and the willingness to take courageous steps. It is about treating the person who cleans your street in the same way as you treat the chairman of a board of directors. It is about challenging the status quo, but making everyone around you feel comfortable with themselves.
An impossible task? I don't think so. It may be a difficult one and a long journey, but Mandela showed us that it is not impossible. He showed us that the power we must strive and aim for is "the power of love, not the love of power." And if we look around us, we can see examples of the difference this can make.
Take the Diversity Collegium for instance. I am proud to be part of a group of leaders that practice what we preach. Not only are we invested in diversity and inclusion as our life work, but we are willing to work side-by-side in advancing the field of diversity and inclusion. The Collegium was founded by individuals who were actually competing against each other in the business world, and yet they recognised the importance of putting personal interests aside and working together as pioneers in the field.
More than 20 years later, the Collegium continues to embody Mandela's call to inclusive and courageous leadership.
In the words of Ernest Hemingway, "There is nothing noble in being superior to your fellow man; true nobility is being superior to your former self." This is what I personally take from Madiba and hope to continue to pass on to South Africa and to the rest of the world.
It is one thing to revere a person, but it is another thing to ask ourselves what we are going to do differently. At this profound moment in history, I have a renewed conviction to lead with integrity, to continue promoting values-based leadership, to do what I love passionately and to always act with a concern for how I impact on other people.
Thank you, Tata, for being a living example of this truth for so many years. Hamba Kahle.
Nene Molefi is a member of the Diversity Collegium and is president of Mandate Molefi Consultants based in South Africa. Her company specializes in transformation strategy, diversity, culture change and executive coaching.
Remembering Mandela
By Alan Richter
I grew up on the slopes of Table Mountain in Cape Town, and recall during many bored moments at my all-white privileged high-school looking out at the city and at Robben Island in the distance off the coast -- not knowing anything about what was happening there.
By the time I reached college (University of Cape Town) and became more politically aware, Mandela had become a legend. After a day in prison, arrested for protesting Apartheid, it became apparent to me that my options were to stay on and fight (and face more prison or worse) or leave – and I gladly took the less courageous option when offered a scholarship to study in the UK. Oddly, while at London University in the 1970s I actually voted for Mandela – to become the Chancellor of London University – even while he was in prison. He was proposed as a protest vote but was defeated (narrowly) by some royal family member – who was destined to be elected. Mandela had a far bigger election victory in his future.
My next strong memory was Mandela's release from prison on February 11, 1990. It was my son Ryan's 4th birthday party and our New York apartment was engulfed with 4-year olds running noisily around me as I cried, glued in front of the TV. We then nicknamed Ryan Rolihlahla, Nelson's Xhosa name which means "trouble-maker". Then I got to see him, only once, in person – in New York on lower Broadway at the ticker-tape parade for him. I brought all of my office-mates with me to witness history.
Mandela deeply shaped my thinking about leadership. In developing the Global Leadership Survey I always had Mandela in mind as the perfect role model – this self-assessment has 4 axes: Values, Action, Ideas and People – or Conscience, Courage, Creativity and Compassion, and Mandela was a master at each one of these. On Values he was a profoundly ethical leader, fighting for freedom, dignity, community and justice and, as demonstrated in the truth and reconciliation work and in the South African Constitution, these values are central. On Action, Mandela had incredible courage in advocating for his vision and values; 27 years in prison and then being able to put that behind and lead with dignity takes amazing courage. On Ideas, Mandela was a truly creative leader. There are many examples, though the best known is probably his wearing the captain's jersey onto the field in the World Cup Rugby final, as portrayed in the movie, Invictus. It was the genius stroke that in one symbolic act eliminated the armed white right-wing threat that still existed in South Africa in 1995. And as for People, Mandela's compassion was witnessed by everyone who met him. He showed genuine care about people, regardless of their position in society.  In developing Global Words for Global Leaders with Sondra Thiederman, we included part of this famous Mandela quote, spoken by his daughter defiantly prior to when he was released from prison: "Only free men can negotiate; prisoners cannot enter into contracts. Your freedom and mine cannot be separated."
I was traveling in Europe when I heard he had died. I immediately sent an email to my sons and daughters-in-law saying Mandela was the greatest leader in their lifetime, and in mine. The legacy he leaves each of us, and especially political leaders around the world, is to find the courage to take action -- inspired by those values, ideals and compassion that he so uniquely embodied.   
Alan Richter, Ph. D., is a member of the Diversity Collegium and president of QED Consulting, based in New York City. He is an experienced consultant in the D&I arena with related expertise in global leadership and professional ethics.